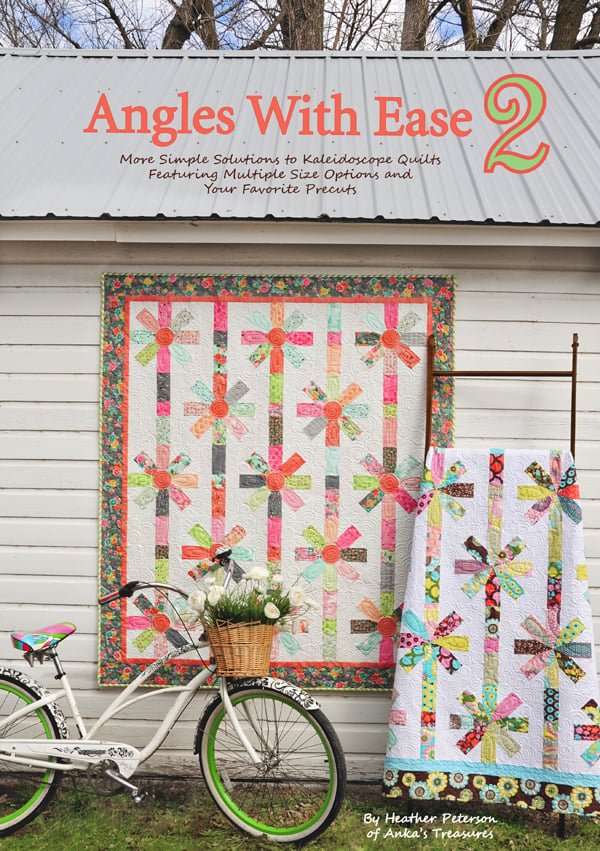 Angles with Ease 2 PDF book
This book is now out of print and no longer available as a paper copy. **This is a PDF copy the book**
A Collection of 12 quilts, featuring multiple size options and your
favorite Precuts.
All designs use our "Triangler" ruler. Learn to make complex looking quilts from strip units or use the ruler to cut unique shapes for endless possibilities.
36 pages - including 12 beautiful color pages
12 designs and over 30 size options included
The Triangler Ruler = Retail $14.95, sold separately. ****This ruler is now out of print and no longer available on our website****. You can still find it in some shops or we would be happy to email you a PDF template so you can make your own, free of charge. Please add a note in your order that you would like the free template and we will send it with your order! The Creative Grids 45-degree Kaleidoscope and Dresden Plate Ruler (available under the notions tab) is a very good substitution and you can use the PDF of the Triangler to copy the diagonal lines onto this ruler)
You can view a preview of this book by going to our blog, then using the search feature to search "Angles With Ease 2 Preview."
The blog address is www.ankastreasures.wordpress.com