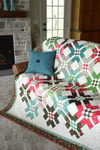 Winter Wonder Chex Mix Kit
Throw/Twin Size: 73.5" x 89". Kit includes 31 Fat Eighths from the Winter Wonder collection for the blocks, plus yardage for the background, border and binding.
You can also choose an option that includes the pattern for $9 and 2 different backing options. The first backing option includes a print of your choice from the yardage in the collection for an additional $55 (there will be a seam up the middle). The second choice includes one of the 108" wide backs from the collection, for an additional charge of $36. Please add a comment to the comments section stating which print from the collection or wide backs you would like.
(Other size options are available upon request. Please see the patterns tab and find the Chex Mix pattern for more info on the sizes included in the pattern)
Just Added: Queen Size Quilt Kit, 89" x 105", includes 25 Fat Quarters, plus all the yardage needed to complete the quilt top and binding. Add an optional backing using the wide back from the collection for an additional $52.