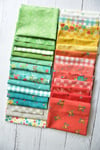 Gingham Cottage Half Yard Bundle PREORDER
Introducing Gingham Cottage! This collection was designed by Heather Peterson for Riley Blake Designs and has 31 prints and 3 wide backs. It will be shipping to stores in February of 2023 and is available for preorder now. The collection has a spring vibe to it with a softer color palette that combines florals, a few geometrics, a lacey medallion print, a tonal and four ginghams. This bundle contains a half yard cut of each of the 31 prints in the collection.
How our Preorders work:
The total price of the bundle with be $172.95, with a fee of $19.95 now to reserve the bundle. Once the fabric arrives, you will get an email from us containing an electronic invoice so that you can pay the balance of $153, plus $12.00 shipping. Please note that the reservation fee is not refundable.