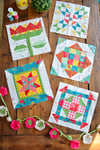 RBD Block Challenge Kit in Gingham Cottage
This kit includes a Fat Eighth pack of the Gingham Cottage fabric line, plus 2.5 yards of the background fabric and gingham binding. This can be used for the Riley Blake Designs Block Challenge 2023. I am doing my version more scrappy than what Riley Blake is doing with theirs, so I have more prints in my kit. Please note - You will have leftovers of some of the prints, as this bundle adds up to more than what their fabric requirement calls for. You can read more about this Block Challenge here:
https://blog.rileyblakedesigns.com/announcing-our-2023-rbd-block-challenge/
You can see the digital quilt made with these fabrics here: (please note this is a mystery quilt, so that is why I'm not posting the entire quilt photo here, though you can view it at this link)
https://ankastreasures.wordpress.com/rbd-block-challenge-2023/
*** Please Note: If your shipping fee adds up to be more than the actual shipping fee, you will be refunded the difference.