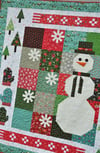 Winter Wonder Sampler Kit
Size: 66.5" x 76". Features the fabric line Winter Wonder by Heather Peterson of Anka's Treasures for Riley Blake Designs. Kit includes fabric for the blocks, plus yardage for the background, borders, and the binding. *Please note this kit originally came in a beautiful keepsake box, but we are sold out of those, so the box in the 3rd photo is not included in the kit.
I hosted a sew along for this quilt in July of 2022 on my You Tube channel and the videos are still up for those making this pattern at a later date.
You can also choose an from 2 different backing options. The first backing option includes a print of your choice from the yardage in the collection for an additional $49 (there will be a seam up the middle). The second choice includes one of the 108" wide backs from the collection, for an additional charge of $36. Please add a comment to the order section stating which print from the collection or wide backs you would like.
*** If your shipping fee adds up to be more than the actual shipping fee, you will be refunded the difference. Our shipping fees are calculated for each item, which works fine for most things in our store, but for fabric it calculates a fee for each half yard, so this is why the shipping fees on fabric can come in at more than what the actual shipping fee will be. If you would prefer to know what the shipping fee will be up front, please drop us an email and let us know what you are interested in purchasing.